Something about summer screams tribal. I don't know about you, but when the sun waltzes onto center stage I feel as though the whole world comes out to play. We speed-shop for bikinis (okay maybe in theory we speed-shop, swimsuit shopping is actually the bane of my existence), bathe in sunscreen and head for the sand. Or we grill out and chill out, spitting watermelon seeds and talking vacay plans. We gather together and unleash our inner wild child, playing and relaxing with equal veracity. Summer camp hazing, hammocking away lazy afternoons, bicycling through sea breezes – we do it all in rompers and keds and new fedoras. Our minds and bodies come alive with these alternating periods of rest and thrill.
Today my question is: how are you planning to go tribal this summer season? After a long winter of bundling up (maybe even a long winter of hiding behind a lot of layers,) what pieces of you will be illuminated by sunshine and warmth? Are you stepping out in a brand new look? Are you going to do something that throws you back to the childhood days? Are you going to take a risk and leap way outside of your comfort zone? Whatever it is, embrace the freedom that sand dunes and mountain tops provide. Lose yourself in simple pleasures like popsicles and discover how best to connect with yourself again.
I'll probably be too busy having fun to mourn the death of my to-do lists so here's my list of I-get-to's for June-August.
1. Rock bold printed trousers like these ones from Etsy.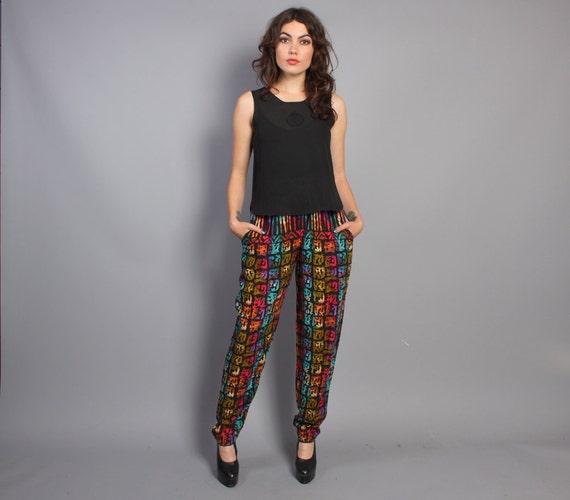 2. Colour on the sidewalk with chalk. Even better, do it with the neighborhood kids.
3. Paddleboard at the lake. It's a great ab workout (so I hear) and being on the water is always uber relaxing. REI has this helpful how-to: Expert Advice.
4. Attend outdoor concerts. I'm sort of a classical music nerd so Charlotte's summer POPs series is my favourite. The series ends soon but there are a few performances left! Click here for the schedule.
(Image from justluxe.com!)
5. Actually eat gourmet popsicles. The King of Pops in Charlotte has dangerously yummy desserts that make me happy, especially when they spontaneously pop up near my office (see what I did there?). Check out the Charleston, Atlanta, Richmond, Savannah, Chattanooga and Athens locations!
6. Purchase cute vintage one pieces. Etsy is my one stop shop for all things 40's and fab.
7. Add to my Guilty Pleasures playlist on Spotify. Currently being replayed over and over: You Get What You Give by the New Radicals & Come on Eileen by Dexy's Midnight Runners.
8. Pretend to be far more graceful than I am and lounge by the pool in a sunhat. These protect my fair skin from strong rays and are great accessories.
9. Make plenty of barley-quinoa-kale salads. We've posted about fresh summer recipes a lot lately – check out out other blog posts for more info on these!
10. Laugh until my stomach hurts. Even after stressful days, gloomy days, overcast days, and all the days in-between, precious friendships keep my world full of light.